Privacy Policy
By accessing any area of this site, the user acknowledges this notice, and agrees to the terms and conditions, set out below.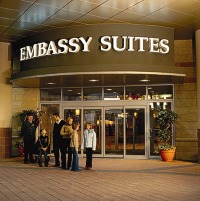 TRADEMARKS AND COPYRIGHTS:
No material from the Web site may be copied, reproduced, republished, posted, transmitted or distributed in any way. The user may print, in hard copy, portions of the Web site only for the purpose of information. The use of any such material for any other reason, on any other Web site, or the modification, distribution or republication of this material without prior written permission is strictly prohibited.
DISCLAIMERS:

PRICE AND AVAILABILITY INFORMATION IS SUBJECT TO CHANGE WITHOUT NOTICE.
ALL PRICES QUOTED ARE IN CANADIAN DOLLARS AND IN AMERICAN DOLLARS. US EXCHANGE IS SUBJECT TO CHANGE.
YOU MUST BE 18 YEARS OF AGE TO MAKE A RESERVATION. A 72-HOUR CANCELLATION POLICY IS IN PLACE FOR ALL RESERVATIONS.
USERS:
The owners and operators of the Web Site reserve the right to not publish, or to remove any Content that they deem in their sole discretion, to be inappropriate for the Web Site, for any reason whatsoever.
STATEMENT ON PRIVACY:
Embassysuitesniagara.com does not use personally identifiable information about visitors in any of its domains except when it specifically asks the visitor(s) to provide information to complete a reservation, or to opt in to join a mailing list.
INFORMATION SHARING:
Embassysuitesniagara.com will not sell or trade your personally identifiable information to unaffiliated third parties.
More

Niagara Falls

Packages
Embassy Suites By Hilton Niagara Falls - Fallsview Hotel
Embassy Suites By Hilton Niagara Falls - Fallsview Hotel, is the newest Niagara Falls hotel in Niagara Falls Canada. The hotel towers 42 storeys over the Brink of Niagara Falls - and is located only 100 yards from the water's edge. Located on Fallsview Boulevard in the Fallsview Tourist District - beside the new Niagara Fallsview Casino, the hotel is surrounded by Niagara's finest restaurants and attractions and offers the finest in Fallsview accommodations.
Let the Embassy Suites By Hilton Niagara Falls - Fallsview Hotel be your guide to Niagara Falls with great getaway packages that make planning easy. Plan a romantic getaway for two with our Romance Package, or a family vacation to remember with our Family Fun Package. Take in a concert with our Fallsview Casino Concert.
This new and unique Niagara Falls Hotel provides guests with unparalleled Falls views, spacious two-room Suites, two restaurants including Fallsview Dining in the Keg Steakhouse & Bar, Niagara Falls Tours and unmatched service excellence. Visit our Site Map for additional Niagara Falls Vacation planning.
Niagara Falls Attractions
The brand new Embassy Suites By Hilton Niagara Falls - Fallsview Hotel is surrounded by Niagara Falls attractions, dining & visitor information. Plan a Niagara Falls vacation, book Fallsview rooms and Niagara Falls vacation packages, access Niagara visitor information and learn more about the destination, at: Niagara Hotels Direct , your Niagara Falls vacation planning guide. Guests of the Embassy Suites By Hilton Niagara Falls - Fallsview Hotel can also experience the Falls without leaving the hotel! View Fireworks over the Falls from your Suite at the Embassy Suites By Hilton Niagara Falls - Fallsview Hotel over 50 nights a year! The Falls are also bathed in the colours of the rainbow with nightly Falls Illuminations. Call 1-800-420-6980 for more information.
Niagara Falls Weddings
Planning a Niagara Falls Wedding? The Embassy Suites By Hilton Niagara Falls - Fallsview Hotel will help with all of your planning details! Imagine a Wedding Ceremony Overlooking Niagara Falls, in our Fallsview Wedding Chapel. Let our Wedding co-coordinators assist in planning the perfect day. Honeymoon Packages are also available. Call us for details or visit our Niagara Falls Wedding Services webpage.
With so much to see and do in Niagara Falls - you will need more than just a few days. With a spacious 2-room Suite, and Complimentary Breakfast to start your day - the Embassy Suites By Hilton Niagara Falls -Fallsview Hotel provides location, value and a "suite" view of Niagara Falls!