Niagara Falls Information
Shopping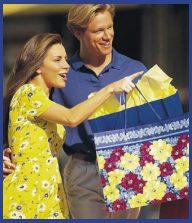 Niagara is home to more than 100 shops featuring everything from Niagara Falls T-shirts to specialty Jewelry. Walk down Victoria Avenue and down Clifton Hill for your best selection of souvenirs and keepsakes. Visit Ontario's only Factory Outlet- Canada One located on Lundy's Lane - only a few blocks from the main tourist district.
Other shopping centers of interest include:
Niagara Square Shopping Centre (905) 357-1110 Located in Niagara Falls- off of the QEW Hwy- on McLeod Road. Stores include; The Bay, Sports Chek, Coles Books, Urban Planet, La Senza, Foot Locker, Rob MacIntosh, and a new Cineplex Odeon Cinema complex.
The Pen Centre Shopping Complex (905) 687-6622 Located in St. Catharines- a 20 minute drive from Niagara Falls. There are 160 stores and services including The Bay, The Gap, Bombay Company, Coles Books, Danier Leather, Levis, Roots, the Body Shop and Black's Camera. Free parking is available.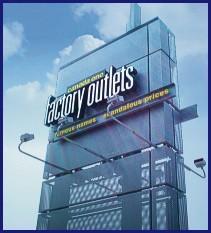 Canada One Factory Outlet Mall
(905) 356-8989 Only a few blocks from the Niagara tourist district- on Lundy's Lane. Some of the stores in the Outlet Mall include: Guess, Rockport, Reebok, Nike, Danier Leather, Nine West, Mexx, Esprit, Tommy Hilfiger and the Body Shop.
Outlet Collection of Niagara
(905) 687-6777 If youre looking for an attraction near Niagara Falls, come discover Canadas largest open-air outlet shopping centre. With 520,000 sq. ft. of shopping heaven, The Outlet Collection at Niagara is your premiere outlet mall in Niagara Falls and beyond. Some of the stores include: Bass Pro Shops Outpost, Calvin Klein, DAVIDs Tea, Samsonite, and Kate Spade New York
More

Niagara Falls

Packages
Embassy Suites By Hilton Niagara Falls - Fallsview Hotel
Embassy Suites By Hilton Niagara Falls - Fallsview Hotel, is the newest Niagara Falls hotel in Niagara Falls Canada. The hotel towers 42 storeys over the Brink of Niagara Falls - and is located only 100 yards from the water's edge. Located on Fallsview Boulevard in the Fallsview Tourist District - beside the new Niagara Fallsview Casino, the hotel is surrounded by Niagara's finest restaurants and attractions and offers the finest in Fallsview accommodations.
Let the Embassy Suites By Hilton Niagara Falls - Fallsview Hotel be your guide to Niagara Falls with great getaway packages that make planning easy. Plan a romantic getaway for two with our Romance Package, or a family vacation to remember with our Family Fun Package. Take in a concert with our Fallsview Casino Concert.
This new and unique Niagara Falls Hotel provides guests with unparalleled Falls views, spacious two-room Suites, two restaurants including Fallsview Dining in the Keg Steakhouse & Bar, Niagara Falls Tours and unmatched service excellence. Visit our Site Map for additional Niagara Falls Vacation planning.
Niagara Falls Attractions
The brand new Embassy Suites By Hilton Niagara Falls - Fallsview Hotel is surrounded by Niagara Falls attractions, dining & visitor information. Plan a Niagara Falls vacation, book Fallsview rooms and Niagara Falls vacation packages, access Niagara visitor information and learn more about the destination, at: Niagara Hotels Direct , your Niagara Falls vacation planning guide. Guests of the Embassy Suites By Hilton Niagara Falls - Fallsview Hotel can also experience the Falls without leaving the hotel! View Fireworks over the Falls from your Suite at the Embassy Suites By Hilton Niagara Falls - Fallsview Hotel over 50 nights a year! The Falls are also bathed in the colours of the rainbow with nightly Falls Illuminations. Call 1-800-420-6980 for more information.
Niagara Falls Weddings
Planning a Niagara Falls Wedding? The Embassy Suites By Hilton Niagara Falls - Fallsview Hotel will help with all of your planning details! Imagine a Wedding Ceremony Overlooking Niagara Falls, in our Fallsview Wedding Chapel. Let our Wedding co-coordinators assist in planning the perfect day. Honeymoon Packages are also available. Call us for details or visit our Niagara Falls Wedding Services webpage.
With so much to see and do in Niagara Falls - you will need more than just a few days. With a spacious 2-room Suite, and Complimentary Breakfast to start your day - the Embassy Suites By Hilton Niagara Falls -Fallsview Hotel provides location, value and a "suite" view of Niagara Falls!