Fireworks & Illumination Schedule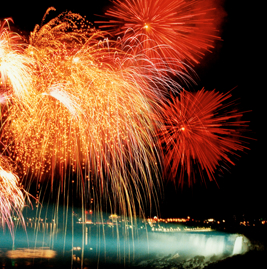 John Taylor (Cleveland OH)
"I have seen fireworks before but never quite like this".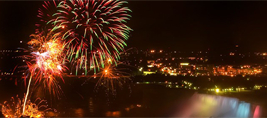 Jennifer Sanderson (London UK)
"I can't believe this spectacular shows was free and the whole family enjoyed it from the room".

Roy MacKenzie (Vancouver BC)
"Watching the light show while enjoying a Keg dinner really made our vacation complete".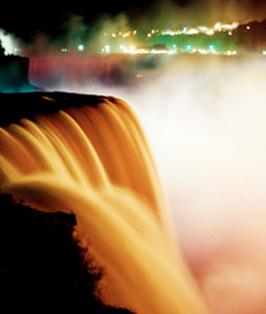 You and your loved ones will be amazed at your own private viewing of the spectacular Fireworks and the magnificent light show over the famous Niagara Falls.
A light show you can enjoy from the comfort of your own suite that you cannot see anywhere else.
There's no better place to view the fireworks and enjoy a delicious meal than from the Fallsview Keg Steakhouse & Bar. This elegant and spacious dining room is designed to give an unbelievable view of the display.
From May - October and during the Winter Festival of Lights (November - January), visitors will be thrilled by the free fireworks display over the mighty Niagara Falls.
Fireworks over the Falls
See the sky light up with fireworks over the Falls from June to September. See millions of different shades of color, a sight were proud to say that the Niagara Falls fireworks show is an experience you won't want to miss.
2017 Fireworks Schedule
Dates
Times
May 19, 21, 22, 26, 28 & 29
10:00 pm
June 12 - 16
10:00 pm
June 19 - 23
10:00 pm
June 26 - 30
10:00 pm
July 1 & 2
10:00 pm
July 3 - 7
10:00 pm
July 10 - 14
10:00 pm
July 17 - 21
10:00 pm
July 24 - 28 & 31
10:00 pm
August 1 - 4
10:00 pm
August 7 - 11
10:00 pm
August 14 - 18
10:00 pm
August 21 - 25
10:00 pm
August 28 - 31
10:00 pm
September 1, 3 & 4
10:00 pm
*As always, fireworks performances are weather permitting and may be cancelled at the last minute due to unexpected changes in wind direction.
Every night throughout the year, the massive falls of Niagara are bathed in all the colors of the rainbow, by way of huge colored spotlights located on the Canadian side of the falls. You can enjoy this awesome sight of the thundering falls illuminated in all different colors until midnight most nights of the year however schedule changes depending on season and weather conditions.
2017 Illumination Schedule
Month
Time
January 1 - January 31
5:00 pm - Midnight
February 1 - February 28
6:30 pm - Midnight
March 1 - March 11
7:00 pm - Midnight
March 12 - March 31
8:30 pm - Midnight
April 1 - April 30
8:00 pm - 1:00 am
May 1 - May 14
8:15 pm - 2:00 am
May 15 - May 31
8:30 pm - 2:00 am
June 1 - July 22
8:45 pm - 2:00 am
July 23 - July 31
8:30 pm - 2:00 am
August 1 - August 15
8:15 pm - 2:00 am
August 16 - August 31
7:45 pm - 2:00 am
September 1 - September 19
7:15 pm - 2:00 am
September 20 - September 30
6:45 pm - 2:00 am
October 1 - October 15
6:30 pm - 1:00 am
October 16 - November 4
6:00 pm - 1:00 am
November 5 - December 30
4:30 pm - Midnight
December 31
4:30 pm - 2:00 am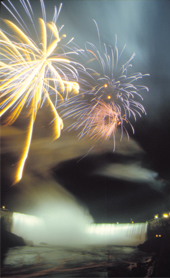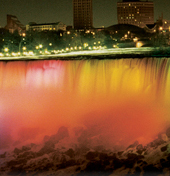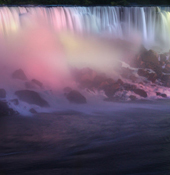 Book your Fallsview Suite to view Spectacular free fireworks over the Falls!
Please select your desired dates:
More

Niagara Falls

Packages
Embassy Suites By Hilton Niagara Falls - Fallsview Hotel
Embassy Suites By Hilton Niagara Falls - Fallsview Hotel, is the newest Niagara Falls hotel in Niagara Falls Canada. The hotel towers 42 storeys over the Brink of Niagara Falls - and is located only 100 yards from the water's edge. Located on Fallsview Boulevard in the Fallsview Tourist District - beside the new Niagara Fallsview Casino, the hotel is surrounded by Niagara's finest restaurants and attractions and offers the finest in Fallsview accommodations.
Let the Embassy Suites By Hilton Niagara Falls - Fallsview Hotel be your guide to Niagara Falls with great getaway packages that make planning easy. Plan a romantic getaway for two with our Romance Package, or a family vacation to remember with our Family Fun Package. Take in a concert with our Fallsview Casino Concert.
This new and unique Niagara Falls Hotel provides guests with unparalleled Falls views, spacious two-room Suites, two restaurants including Fallsview Dining in the Keg Steakhouse & Bar, Niagara Falls Tours and unmatched service excellence. Visit our Site Map for additional Niagara Falls Vacation planning.
Niagara Falls Attractions
The brand new Embassy Suites By Hilton Niagara Falls - Fallsview Hotel is surrounded by Niagara Falls attractions, dining & visitor information. Plan a Niagara Falls vacation, book Fallsview rooms and Niagara Falls vacation packages, access Niagara visitor information and learn more about the destination, at: Niagara Hotels Direct , your Niagara Falls vacation planning guide. Guests of the Embassy Suites By Hilton Niagara Falls - Fallsview Hotel can also experience the Falls without leaving the hotel! View Fireworks over the Falls from your Suite at the Embassy Suites By Hilton Niagara Falls - Fallsview Hotel over 50 nights a year! The Falls are also bathed in the colours of the rainbow with nightly Falls Illuminations. Call 1-800-420-6980 for more information.
Niagara Falls Weddings
Planning a Niagara Falls Wedding? The Embassy Suites By Hilton Niagara Falls - Fallsview Hotel will help with all of your planning details! Imagine a Wedding Ceremony Overlooking Niagara Falls, in our Fallsview Wedding Chapel. Let our Wedding co-coordinators assist in planning the perfect day. Honeymoon Packages are also available. Call us for details or visit our Niagara Falls Wedding Services webpage.
With so much to see and do in Niagara Falls - you will need more than just a few days. With a spacious 2-room Suite, and Complimentary Breakfast to start your day - the Embassy Suites By Hilton Niagara Falls -Fallsview Hotel provides location, value and a "suite" view of Niagara Falls!