Family Vacation Guide
Travel Tips
Babysitters On Vacation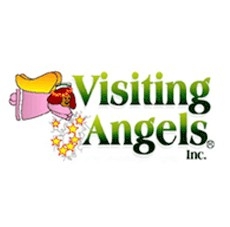 Visiting Angels provides caregivers for your children in your hotel suite while you enjoy all the fun and entertainment that Niagara's night life has to offer. To ensure your peace of mind, Visiting Angels provides you with the following safeguards:
All caregivers undergo an extensive hiring process, including:

First Aid/C.P.R. Certification
Fully trained, bonded and insured staff
Police checked for a criminal record
Work and personal references
Appropriate qualifications
Training programs

Caregivers can not smoke, or allow guests in the hotel suite.
Caregivers are equipped with a First Aid Kit and Activity Kit which includes reading books, games, puzzles, song sheets, colouring books and crayons.
Additional Information:
Child care is available 24 hours per day, 7 days a week
Services to be booked 72 hours in advance and require 24 hour cancellation policy
Extended service can be arranged for care requirements which exceed 6 hours
Visiting Angels
Toll Free: 1-877-239-4397
Customer Service: 1-905-685-4242
Return to Top
Packing Pointers

Unless your home has wheels, you can't bring everything with you. So here are some recommendations on what should be at the top of your list when traveling with children:
First aid supplies like bandages, antiseptic ointment, clean towels and any medication your child may require.
Baby wipes, baby food, water, juice, diapers and bottles.
Bring clothes for 2 changes each day each child, and bring clothes that will suit both warm & cold weather.
Pacifier, toys, stuffed animals that will comfort the child or for them to play with.
You may want to leave behind things that can be easily bought once you arrive at your destination.
Have someone pick up newspaper or other deliveries as they will make your home appear unoccupied.
Use a timer to have some lights come on at night and give the appearance that someone is home.
Return to Top
Games on the Move
Bringing a deck of playing cards or crossword puzzles in the car may keep children occupied for much of the trip. Avoid board games or games with many little parts that will get lost in the car. If none of your children's games seem suitable for the vehicle, there are many games that can pass the time without making a mess of the car. Kids can make a game of spotting out of state license plates, or play "I spy with my little eye", or bingo. Remember that pastimes should be kept quiet enough so as not to distract the driver at any time.
Return to Top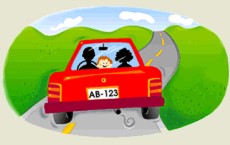 By nature, children are excited to be going somewhere, and very anxious for that surprise to arrive. So keeping them occupied on the car ride may mean the difference between a good or bad start to your trip.
Try starting the drive very late at night so the children will sleep for the majority of the trip. If that won't work for you, be sure to bring books for them to read, and even headphones so they can listen to their own music on the ride. Coloring books and hand held video games are good ideas.
Planning your stops may also help the traveling go more smoothly, so use a map to find areas you and your family can stop every few hours to eat, relax, stretch and use the washroom. Be extra cautious when driving through crowded downtown areas that are packed with children and other tourists.
Return to Top
Hotel Suite Childproofing Tips
By nature, children are extremely curious, think of your hotel suite as a smaller version of your home by taking the same safety measures. By keeping your hotel suite as safe as possible allows them to satisfy their curiosity and saves you from jumping every few minutes.
Never allow your child to leave the room or suite alone. A hotel is a very large place to a child and it is very easy to get lost. Make sure all doors to the room are secure so your child does not slip out while your attention is elsewhere.
If your child is old enough to explore on their own, make sure they know the room number and that they are staying at the Embassy Suites By Hilton Niagara Falls - Fallsview Hotel.
Finally, remember that all hotels may not be equipped with the little comforts that make your child feel at home, so bring a night light or plush toy or blanket that your child is familiar with and will be comforting to them.
Return to Top
First Aid Kit and Local Emergency Phone Numbers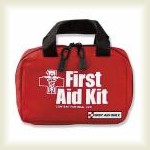 First aid kits can be packed and brought along on your vacation; here are some things you may want to include:
bandages or gauze
antibacterial cream or ointment
antiseptic wipes
tape, scissors and tensor bandage
allergy medication, aspirin or other pain reliever
blankets, flashlight
extra prescription medication
Don't forget the following necessities if you are traveling by car:
jumper cables
mallet, crowbar, tire iron
flares or reflective road markers
cell phone
LOCAL EMERGENCY PHONE NUMBERS

Greater Niagara General Hospital
905-358-0171
Niagara Regional Police
905-688-4111 or dial 911
Fire Department
905-356-1321 or dial 911
Poison Information
1-800-268-9017
Canada Customs
905-354-4843
U.S. Customs
1-716-282-1500
Crime Stoppers
1-800-222-8477
It is also a good idea to carry a list of any medical conditions or allergies your children or any family member may have. This can help paramedics in case of emergency. Also include the name and phone number of your family doctor and the name of your Health Insurance provider as well as phone number and policy number.
Return to Top
Hotel Safety Questions & Answers
Here are some safety features you may want to ask before booking a hotel suite.
Does the hotel suite:
Have emergency exits and fire escapes clearly posted on the door or elsewhere in the room? - YES
Have slide locks or deadbolts as well as peepholes in the doors? - YES
Have a balcony? - NO
Use electronic keys instead of traditional keys? -YES
Feature a safe for valuables? - YES
Provide cribs, if so; are they up to standards with the Consumer Product Safety Commission? - YES
Have down as well as foam pillows? - YES
Have its own thermostat to adjust temperature? - YES
Does the hotel:
Have secured on site parking? - YES
Have stairs and elevators? - YES
Provide on site security services? - YES
Return to Top
While on your trip
Confirm reservations before arriving.
Discuss what you plan to accomplish before setting out to explore each day.
Bring enough money for gas, food, and lodging.
Tours and special activities you may want to buy on your vacation may not be what they seem. Use your judgment and choose tour and activity operators that seem reputable and well known.
Return to Top
More

Niagara Falls

Packages
Embassy Suites By Hilton Niagara Falls - Fallsview Hotel
Embassy Suites By Hilton Niagara Falls - Fallsview Hotel, is the newest Niagara Falls hotel in Niagara Falls Canada. The hotel towers 42 storeys over the Brink of Niagara Falls - and is located only 100 yards from the water's edge. Located on Fallsview Boulevard in the Fallsview Tourist District - beside the new Niagara Fallsview Casino, the hotel is surrounded by Niagara's finest restaurants and attractions and offers the finest in Fallsview accommodations.
Let the Embassy Suites By Hilton Niagara Falls - Fallsview Hotel be your guide to Niagara Falls with great getaway packages that make planning easy. Plan a romantic getaway for two with our Romance Package, or a family vacation to remember with our Family Fun Package. Take in a concert with our Fallsview Casino Concert.
This new and unique Niagara Falls Hotel provides guests with unparalleled Falls views, spacious two-room Suites, two restaurants including Fallsview Dining in the Keg Steakhouse & Bar, Niagara Falls Tours and unmatched service excellence. Visit our Site Map for additional Niagara Falls Vacation planning.
Niagara Falls Attractions
The brand new Embassy Suites By Hilton Niagara Falls - Fallsview Hotel is surrounded by Niagara Falls attractions, dining & visitor information. Plan a Niagara Falls vacation, book Fallsview rooms and Niagara Falls vacation packages, access Niagara visitor information and learn more about the destination, at: Niagara Hotels Direct , your Niagara Falls vacation planning guide. Guests of the Embassy Suites By Hilton Niagara Falls - Fallsview Hotel can also experience the Falls without leaving the hotel! View Fireworks over the Falls from your Suite at the Embassy Suites By Hilton Niagara Falls - Fallsview Hotel over 50 nights a year! The Falls are also bathed in the colours of the rainbow with nightly Falls Illuminations. Call 1-800-420-6980 for more information.
Niagara Falls Weddings
Planning a Niagara Falls Wedding? The Embassy Suites By Hilton Niagara Falls - Fallsview Hotel will help with all of your planning details! Imagine a Wedding Ceremony Overlooking Niagara Falls, in our Fallsview Wedding Chapel. Let our Wedding co-coordinators assist in planning the perfect day. Honeymoon Packages are also available. Call us for details or visit our Niagara Falls Wedding Services webpage.
With so much to see and do in Niagara Falls - you will need more than just a few days. With a spacious 2-room Suite, and Complimentary Breakfast to start your day - the Embassy Suites By Hilton Niagara Falls -Fallsview Hotel provides location, value and a "suite" view of Niagara Falls!